This page is a guide of what to look for when selecting and submitting material products for LEED v4 projects. There are 4 credits which require submittals for all products in Divisions: 3-10, 31 & 32.
MRc2: Building Product Disclosure Optimization: Environmental Product Declarations (EPDs)
MRc3: Building Product Disclosure Optimization: Sourcing of Raw Materials
MRc4: Building Product Disclosure Optimization: Material Ingredients
IEQc2: Low Emitting Materials
---
MRC2 EPD- ENVIRONMENTAL PRODUCT DECLARATION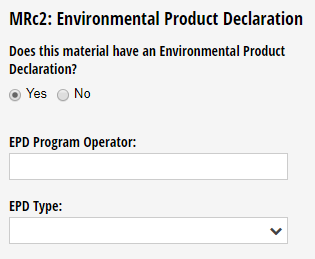 Below is an example of an EPD cover page. Submit the entire EPD document with your submittal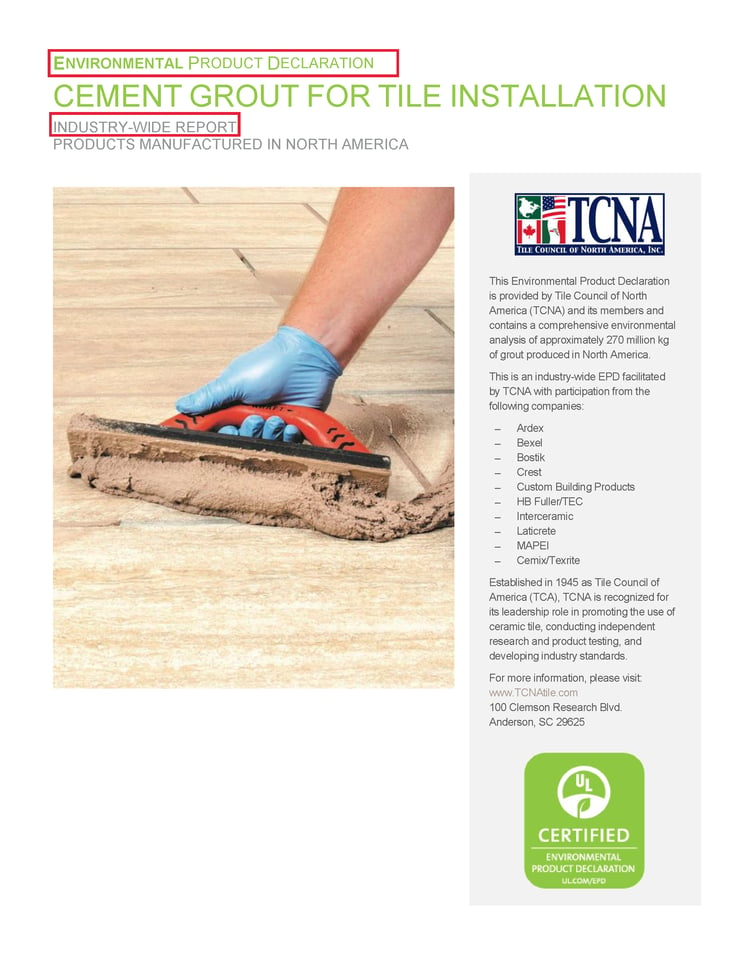 Items to note:
All EPD's should have a cradle-to-gate scope
EPD's must meet the following ISO standards:

Life Cycle Assessment – ISO 14044
Product-specific Type III EPD, Internally & Third Party Reviewed - ISO 14025, and EN 15804 or ISO 21930
Industry-Wide Type III EPD - ISO 14025, and EN 15804 or ISO 21930

For Industry Wide EPDs, the manufacturer of the project must be explicitly recognized as a participant
MRC4 MATERIAL INGREDIENTS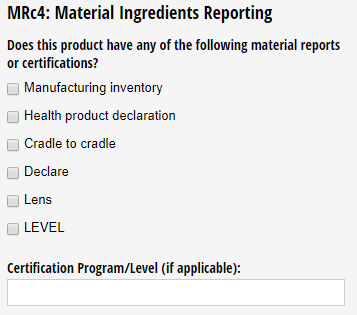 There are several certifications which can serve to prove a chemical inventory of at least 0.1% (1000 ppm). The following are example images of these certifications and what to look for.
Health Product declaration (hpd)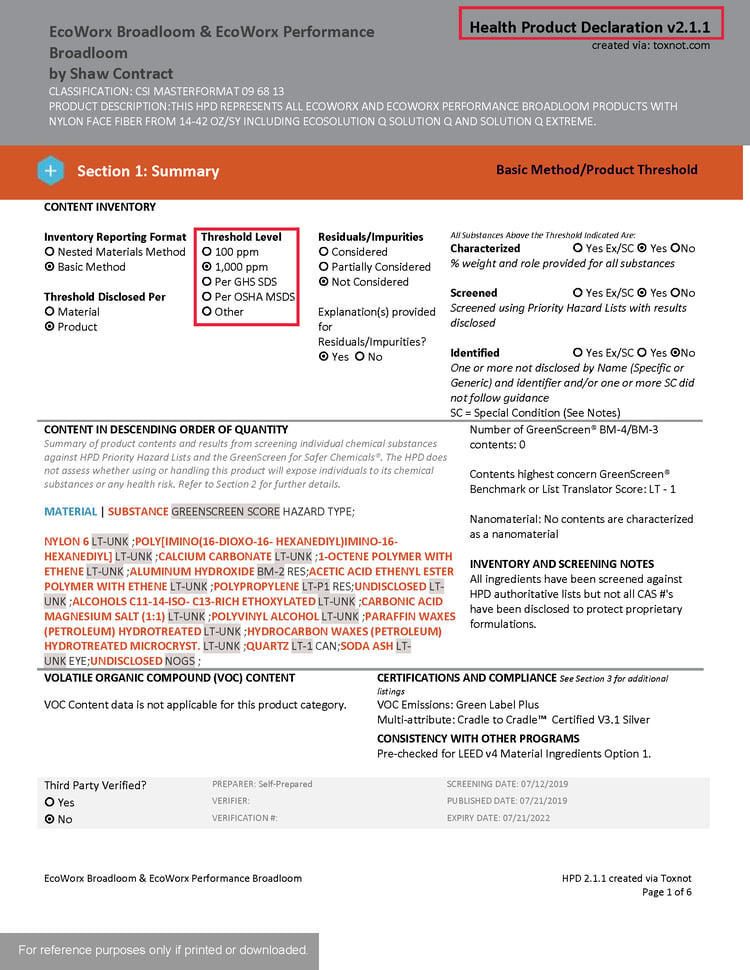 Cradle to cradle certification
Must be v2 Basic Level or v3 Bronze Level or higher
cradle to cradle material health certificate
Certified At The Bronze Level Or Higher And At Least 90% Of Materials Assessed By Weight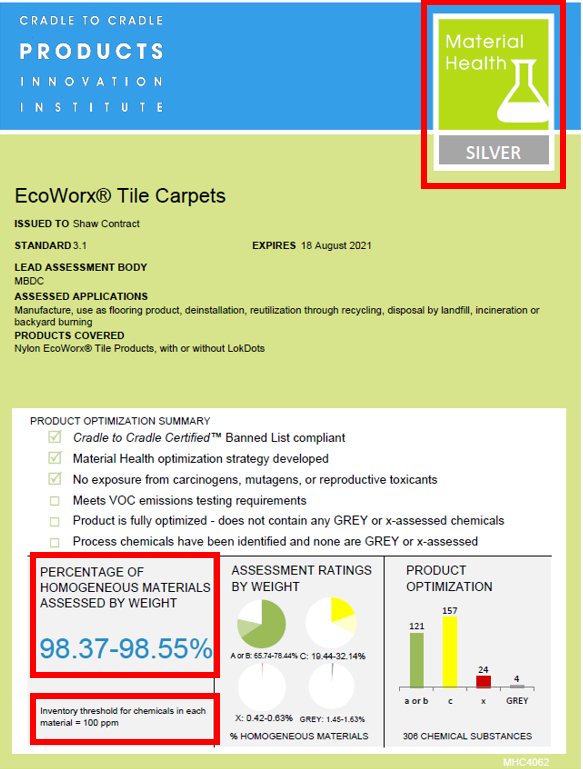 declare label
Certified As Red List Free, Declared, Or LBC Compliant With A Content Inventory Of 1000ppm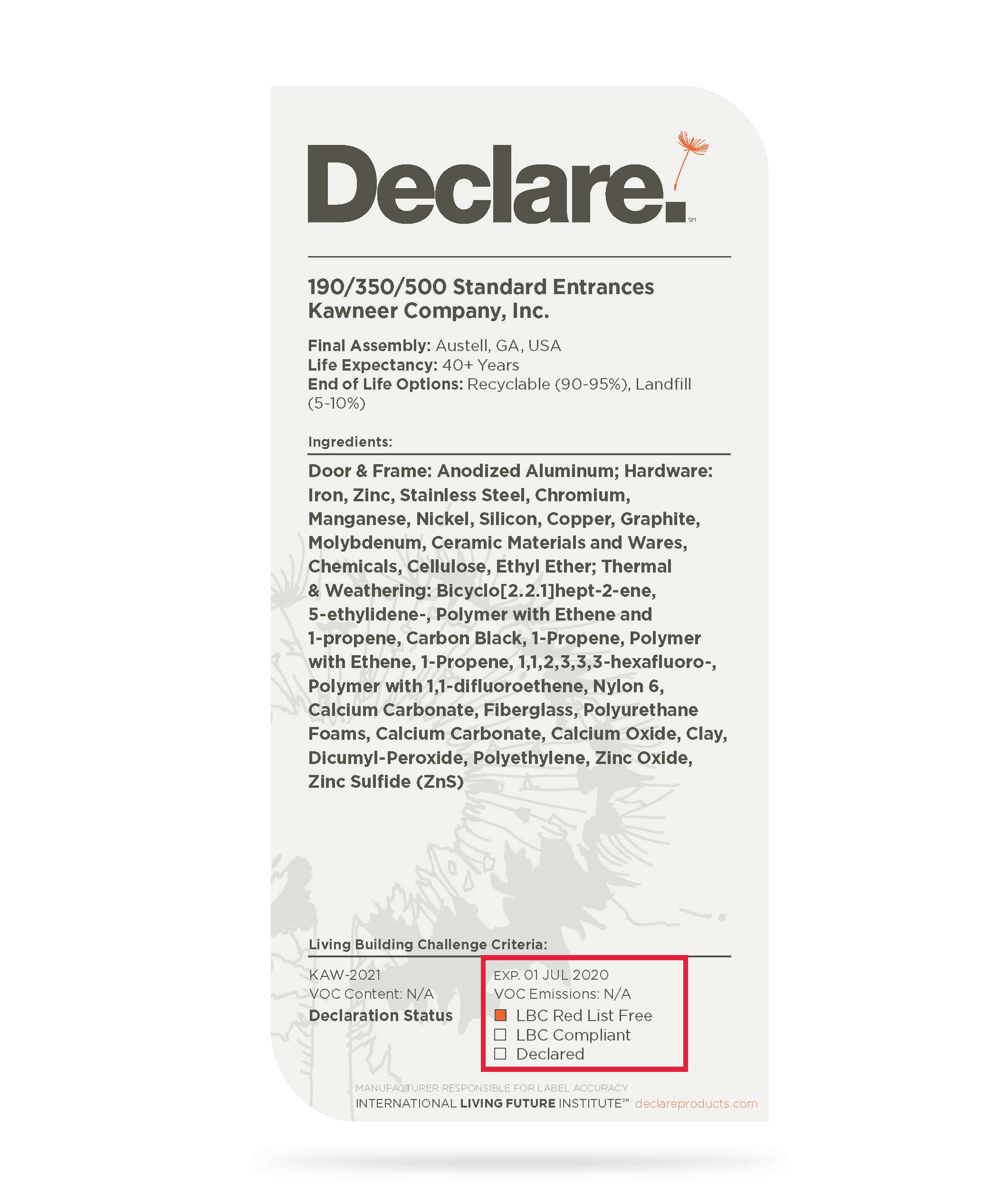 lens certification
FACTS Certification

MRC3: SOURCING OF RAW MATERIALS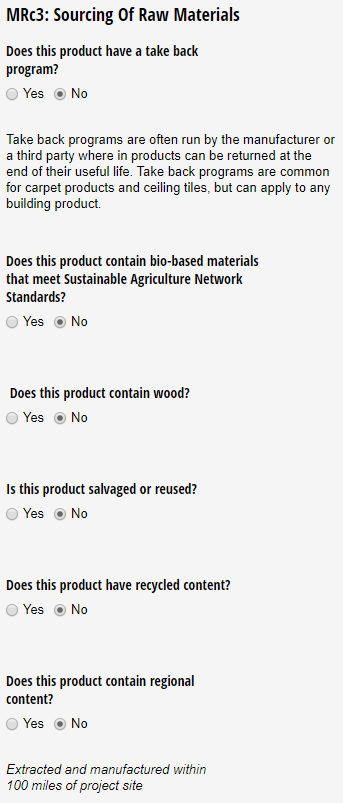 Extended Producer Responsibility (also known as a product Take Back Program) –
Documentation must indicate that the product submitted is included in the Take Back Program. Take back programs can be either run by the manufacturer or a third party. Example manufacturer take back program documentation
Bio-Based Materials - Bio-based raw materials other than wood must be tested using ASTM Test Method D6866 and be legally harvested, as defined by the exporting and receiving country OR meet the Sustainable Agriculture Network's Sustainable Agriculture Standard. Excludes hide products, such as leather and other animal skin material.
FSC Wood – Must provide an invoice of the sale to the project that includes the supplier's FSC chain-of-custody certification (COC) number. For multiple handlers in the supply chain, all must provide a COC#. Note if an invoice is not yes available and provide upon receipt.

Material Re-use – Includes salvaged, refurbished, or reused products
Recycled Content – Manufacturer documentation of pre-consumer and post-consumer recycled content is required. If recycled content ranges are provided, the lowest percentage will be utilized. See example below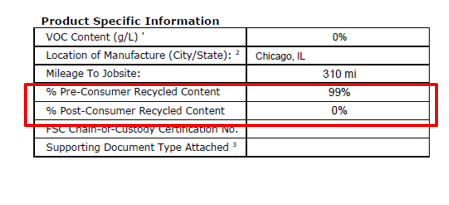 Regional Content – Manufacturer documentation that 100% of the product is both extracted and manufactured within 100 miles of the project is required