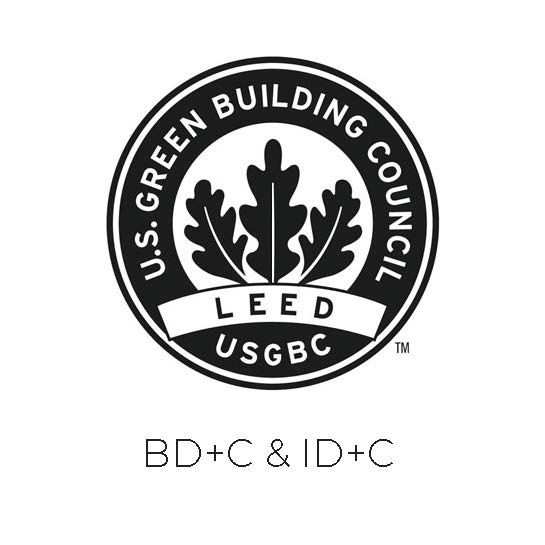 LEED
This rating system, created by the international cohort of individual and business members of the US Green Building Council, is designed for application on every building type. It is the most widely used rating system in the world. Providing a framework for healthy, efficient and lower-carbon and lower-cost buildings, it also provides guidance for sustainable cities and neighborhoods.
All versions of the LEED rating system carry the same goals, to:
Reduce contribution to global climate change

Enhance individual human health

Protect and restore water resources

Protect and enhance biodiversity and ecosystem services

Promote sustainable and regenerative material cycles

Enhance community quality of life
Projects earn certification by complying with prerequisites, which are required, and optional credit strategies worth points. Projects achieve certification at four levels, Platinum, Gold, Silver and Certified.
There Is A LEED Version For Every Project:
Building Design & Construction (BD+C): for new construction and major renovation, including core and shell. This rating system provides unique pathways for schools, retail, hospitality, data centers, warehouses & distribution centers and healthcare. This rating system also applies to residential or mixed use projects above six stories.
Interior Design & Construction (ID+C): for commercial interiors – major renovations or new fit-outs, this ratings system includes unique pathways for retail and hospitality.
Existing Building Operations + Maintenance (O+M): for existing buildings that are in regular operations, with little or no construction work. It includes unique pathways for schools, retail, hospitality, data centers and warehouse and distribution centers.
Neighborhood Development (ND): for new land development projects or redevelopment projects containing residential uses, non-residential uses, or a mix. It includes certification for projects in planning stage or post-build.
Homes: for single family homes, low-rise multi-family (up to three stories) or mid-rise multi-family (four to six stories).
Cities and Communities: for entire cities and sub-sections of a city, this rating system measures an manages the city's water consumption, energy use, waste, transportation and human experience.
LEED Zero: for any previously certified project under BD+C or O+M rating systems that achieve net zero goals in carbon and/or resources.
Certification Focus Areas
Lifecycle & Facility
Management
Process And Cost Information:
Each building seeking certification must register individually, and there are pathways for campuses and similarly designed buildings. Once registered, a project will gain access to LEED Online and/or ArcSkoru, or in the case of LEED Homes, assigned a LEED Homes Provider for the purpose of sharing required documentation and the process of certification review. All LEED projects are reviewed by a third-party, the Green Building Certification Institute, which grants the certifications. Certification fees are based upon factors such as square feet or acreage.