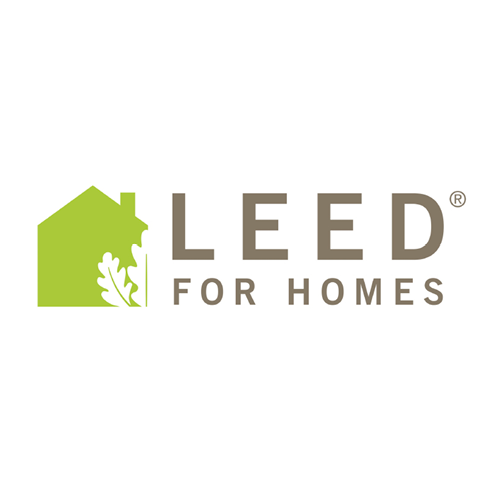 LEED for Homes
LEED Certified green homes use less energy and fewer resources and are healthier for the people living inside them. Just like any other LEED project, there are four levels of achievement that reflect the level of sustainability a building has attained. Homes aim to better the lives of people as well as the health of the environment by utilizing natural light, building with environmentally friendly materials, and reducing resource consumption. LEED for Homes is for single family, multifamily low-rise, and multifamily mid-rise buildings. If the building is greater than 6 stores, a different rating system should be used.
Credit Categories:
Location and Transportation

Sustainable Sites

Water Efficiency

Energy and Atmosphere

Materials and Resources

Indoor Environmental Quality

Innovation

Regional Priority
Certification Focus Areas
Lifecycle & Facility
Management


Energy Management Systems

Monitoring
Performance
Process And Cost Information:
LEED for Homes has minimum program requirements including a project size, so check compliance before registering the project. Residential projects are required to work with a LEED Green Rater to verify requirements are being met. A mid-construction verification visit and a final construction verification visit are both required to be done by the Green Rater.
Once the application is complete, the Green Rater will submit it to GBCI for a standard review. This may be the only review process necessary. A second supplementary review is an option for project teams who are not satisfied with their initial results form GBCI. For more feedback through the process, a pre-review is available for projects. Project teams can pay for expedited review as well.
For single family homes, there is a registration fee as well as a certification fee either per home or per batch (flat fee + smaller fee per home). For multifamily projects, there is a registration fee as well as certifcation fees per square foot. Any homes project is able to pay a flat fee for expedited review Silver, gold, and platinum members receive discounted pricing.