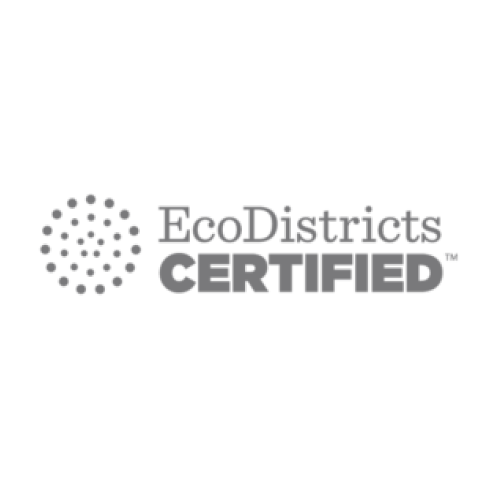 EcoDistricts
EcoDistricts Certification brings together the values of developers, community members, policymakers, and investors. This certification criteria focuses on three overarching ideas: equity, resilience, and climate protection. The certification is most applicable for district-scale or neighborhood projects involving stakeholders such as public agencies, community development organizations, and institutions such as universities and hospital networks.
Certification Focus Areas
Lifecycle & Facility
Management
Process And Cost Information:
The first step toward EcoDistricts Certification is registering the project. Once the project team registers, they receive a handbook outlining certification requirements as well as a legal agreement. The next step is submitting the Imperatives Commitment. This is what binds teams to shared values of equity, resilience, and climate protection goals. Following is the Formation phase which involves establishing a leadership team, building a collaborative decision-making structure, and submitting and having documentation reviewed. Next is the roadmap phase where performance targets, strategies for achieving the targets, and a schedule for implementation are determined. The final step toward certification is the Performance phase, during which the roadmap is implemented, measured, and evaluated on an ongoing basis.
Once certification is awarded, the project must be reviewed every 2 years to renew.
Each step in the process has a flat fee. There is an option to combine the three certification steps into one payment to lower costs.