We Are Your Team In Charting Your Course
SUSTAINABILITY ROADMAP
Customers, investors, and employees are increasingly asking companies to "prove it" when it comes to sustainable performance and ESG reporting. Are you ready?
Risk mitigation strategies for threats ranging from climate disasters to pandemics require building operators to be equipped with facility maintenance plans. When did you last update your facility maintenance plans?
Knowing your numbers today ensures you can measure success tomorrow. Do you know how your facilities are performing today?
With stakeholder engagement, you learn what priorities are most important to your people and cultivate stories that demonstrate commitment to leading your organization into a sustainable future. Do you have a robust inventory of sustainable initiatives mapped to your corporate goals?
A Sustainability Roadmap guides you to a sustainable future.
Ready to Start Your Journey?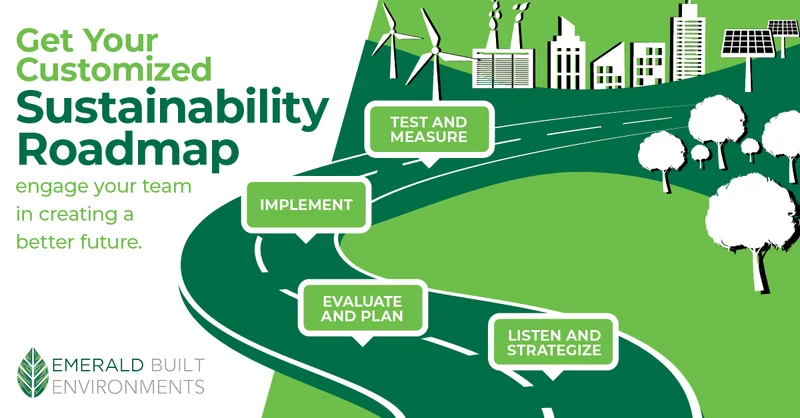 What Is A Sustainability Roadmap?
Informed by 13 years of consulting building owners and their operations teams, our Sustainability Roadmap is a distinct set of consulting and engagement activities that culminate in a plan to guide you to a sustainable future. A Sustainability Roadmap gives you an opportunity to engage your employees and stakeholders in creating a vision and plan for how your company can improve its environmental performance and create healthy spaces for your people. Through a Sustainability Roadmap engagement, Emerald will review your current facility operations & maintenance practices and uncover opportunities to improve performance. Designed to provide you with a plan in 90 days, a Roadmap is a perfect way to thoughtfully develop a vision for tomorrow and a tactical plan to get you started.
Who Is This For?
Organizations with broader Environmental, Social, and Corporate Governance (ESG) initiatives that need to connect with facilities teams

Organizations with multiple locations or buildings that lack visibility on building performance

Organizations looking to get started on a path to more sustainable operations

Organizations with employees, boards, or customers that are asking about sustainability performance but struggle to articulate their numbers

Organizations with new buildings that want to bring these spaces and their occupants into the fold with sustainability efforts
What Is The Process?
We will work with you to scope a process that meets your specific needs. We traditionally complete Roadmaps in 30-90 days. Modules you can choose include:
In-person engagement sessions and online surveys - to cultivate stories and identify opportunities to engage your team in creating the vision

Facility audits and utility analysis for your locations to understand your benchmark performance and identify opportunities to celebrate success and focus future investment

Review of current facility operation & maintenance protocols, plans, and vendor agreements to understand gaps, implement best practices, and strengthen your ability to mitigate risk

Review of sustainability communications & metrics reporting to enhance alignment with corporate goals

Peer comparisons to understand your opportunity to lead your industry forward
What Are The Deliverables?
The Sustainability Roadmap culminates in an action plan with short- and long-term activities. Captured in a written report with specific and clear recommendations that connect to your corporate goals, the Sustainability Roadmap shows you how to get where you want to go. Using visual aids like graphs, charts, and infographics, the Sustainability Roadmap will be a guide to your team on its journey to a sustainable future.
What Does This Cost?
Sustainability Roadmaps are priced based on your needs and goals and start as low as $5,000. Let us help you build your Sustainability Roadmap - fill out the form above to get started.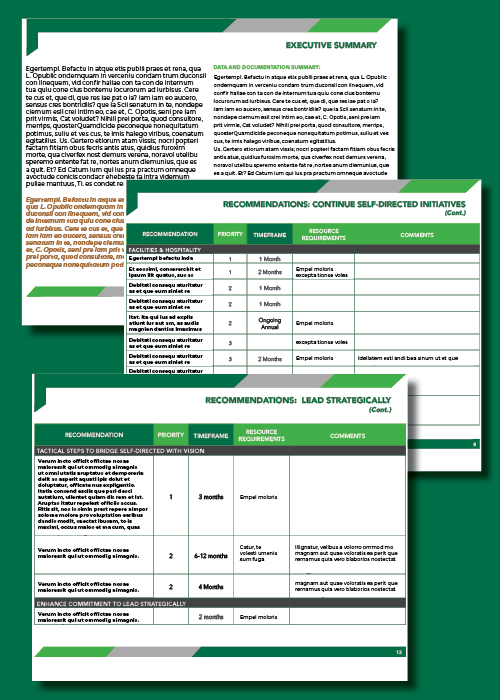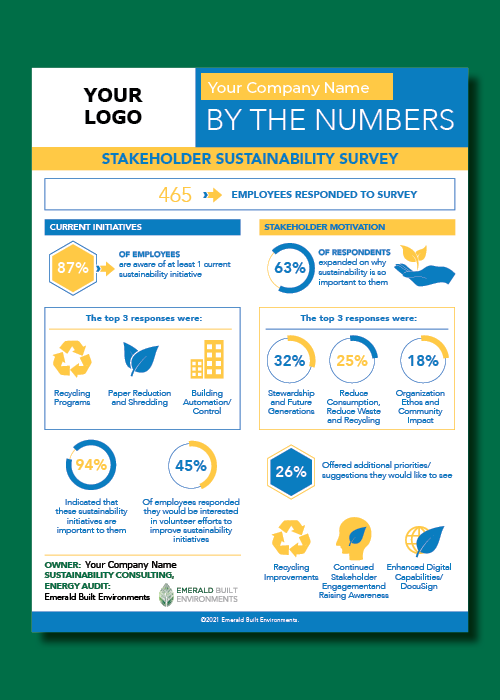 Learn More
You can also learn more by watching our video on this subject, What is a Fractional Sustainability Officer? Companies across America both big and small are formalizing their sustainability initiatives and E-S-G – environmental, social, and governance programs. To achieve results, companies often invest in new positions – the ESG Sustainability Manager or Coordinator to manage the process of creating and implementing strategy, ongoing communications and reporting, and stakeholder engagement. The truth is that one person probably doesn't have all the skills needed for success. That's why we developed Fractional Sustainability Officer services.