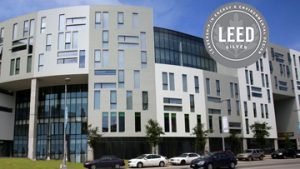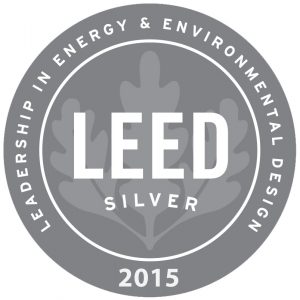 Residential - Retail - Commercial Mixed Use
120,000 sf - 6 Stories
LEED NC Silver Certified 2014
Uptown Apartments is a pedestrian-friendly "village" featuring 102 apartments and 56,000 square-feet of retail space, in addition to parking for residents and customers in Cleveland's University Circle area. Situated in two buildings on Euclid Avenue at 115th Street, the area was dubbed by the New York Times as "Cleveland's Second Downtown," with access to museums, entertainment, and educational institutions. The mixed-use project converted surface parking lots in a walkable and vibrant hub for the Cleveland's East Side. The sustainable amenities enable owners to offer apartments and retail locations at a variety of price points, supporting a community of mixed-income residents and a combination of local and national retailers.
Features:
Pedestrian-friendly design with easy access to RTA bus and rapid transit systems
Use of natural light in apartment spaces with eight-foot-tall frosted glass sliding doors enclose the bathrooms, laundry areas, and closets
High-efficiency appliances, sustainable flooring, low-flow water fixtures, low-voltage electric fixtures, and energy-efficient heating, ventilation and air-conditioning systems
30% regionally sourced construction materials
Sustainable operating policies
Owner:MRN, Ltd.
Architects:Stanley Saitowitz | Natoma Architects
General Contractor:MRN, Ltd.
Budget:$12.5m