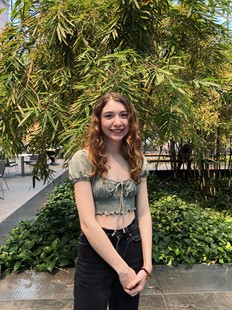 What is your educational background?
I'm currently pursuing my Bachelor's degree in Environmental Studies with a concentration in Public Policy from Kenyon College in Gambier, Ohio. I hope to continue my education and earn my Master's degree after I graduate.
What strengths do you bring to the EBE team?
My passions for the environment and sustainability make me a great asset to the Emerald team. As a very detail-oriented and organized person, I make sure that every project I work on is completed to the best of my ability. Having worked as a social media intern previously, I offer my skills in writing to the EBE team to help promote the work of our wonderful team members.
What is your proudest project moment, and why?
Having had little prior knowledge about environmental/sustainability consulting, I felt most proud when I had my first blog approved. I've enjoyed learning an immense amount about this field that is so new to me and am grateful to have the opportunity to continue to discover more about what is involved in this work.
What is your sustainability goal for 2021?
In 2021, I hope to think more consciously about how my actions and the actions of the human population as a whole impact the environment. One way I intend to do this is through studying abroad in Denmark this fall with a program centered around Sustainability and Renewable Energy.