Centric Apartments
Key Parameters
Location: Cleveland Ohio
Annual energy use (based on simulation): 9,350 MMBtu
Completed: 2018
Project cost: $82.5 million (including FFE, soft cost and roadway)
Gross floor area: 290,000 sf (not including garage)
Certification: undergoing LEED v3 certification with a goal of Silver
Program: Multi-story apartments, with first floor commercial space including a fitness center, dog wash station and attached parking garage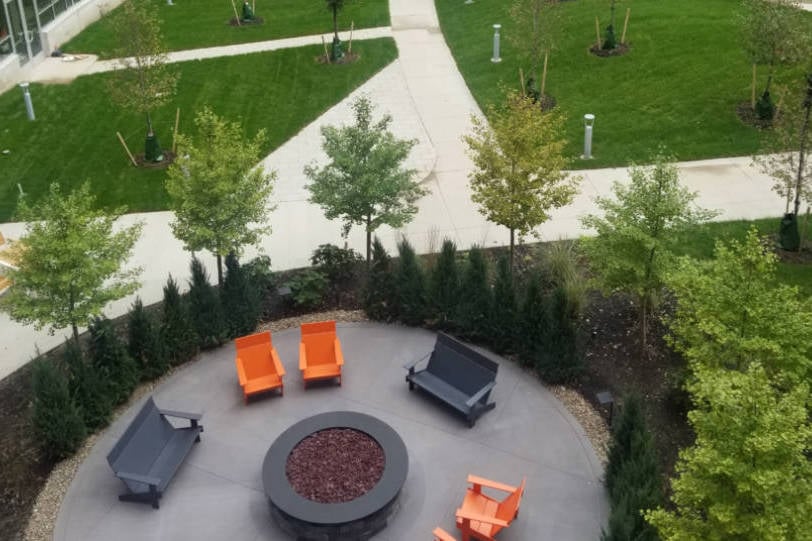 Team
Architect: Bialosky Cleveland (Architect of Record), Humphreys & Partners (Design Architect)
Owner: Intesa Holding LLC
Engineers: Timothy J Norris & Associates (MEP), PSI (Geotechnical), McHenry Associates (MEP-Garage), VCA Structural, Wells & Associates (Traffic), Alfred Benesch & Company (Train), Emerald Built Environments (Brandywine Consulting) Energy Modeling and Commissioning
Consultants: Emerald Built Environments (Brandywine Consulting) LEED, Wiss, Janney Elstner Associates (Building Enclosure) , MKSK (Landscaping/Site), Acentech (Acoustical), Deco Communities (Interior Branding), Art & Science Lighting Design (Lighting), Private Label International (Interior Design)
Construction Manager: Panzica Construction
Case Study
Centric Apartments is a mixed-use retail and residential apartment building with associated parking garage located in the University Circle neighborhood in Cleveland, Ohio at the intersection of Mayfield Road and a new extension of Circle Drive. The site sits in an active urban core west of the Little Italy neighborhood, southeast of Uptown, and is immediately adjacent to the Cleveland Institute of Art. Centric is within ¼ mile of bus stops for 4 different lines including the Regional Transit Authority's Health Line, and is just steps from a new light rail rapid transit station.
The design incorporates a dynamic ½ acre green space, for the use of residents and public, into the heart of the 2.26 acre building site. To accommodate the stormwater requirements of the high-density mixed-use building and parking structure, a Stormtech subsurface detention system is located below the central courtyard. This technology allowed for great flexibility in the layout of hardscape, landscape amenities, and plantings including a bioretention area. The system captures the site's storm water and routes it through an isolator row for water quality treatment while detaining precipitation for controlled release during non-peak rain periods. An underdrain at the perimeter of the holding chambers outlets the filtered water to an irrigation system, which provides non-potable water to the landscape plantings. This innovative stormwater management system reduces run-off volume by 57% and treats 90% of annual rainfall.
Centric Apartments enhances the urban fabric along the pedestrian corridor by connecting Little Italy, the RTA station, and UH campus to multiple other civic institutions. Pedestrian circulation is encouraged and more than 100 indoor bike parking spaces serve the building's residents while exterior bike racks accommodate additional commercial tenants and community riders.