We are celebrating 10 years!
The firm began in 2008 and is previously known as HLMS Sustainability Solutions. Ten years ago, its partners, Susann Geithner, Matt Setzekorn and Laura Steinbrink met on a LEED-CI project. Susann represented the owner, Laura was the LEED consultant and Matt Setzekorn was the energy modeler - commissioning agent. After eight years working together as collaborators on many projects across the globe, the three joined under the existing company and re-named it Emerald Built Environments in 2017. Together, they use an innovative model for achieving sustainability and business success that provides an integrated solution to project owners' challenges.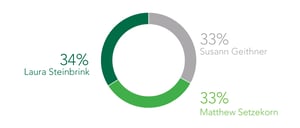 Emerald Built Environments is an Ohio Limited Liability Company with S-Corp designation with the IRS. It is a woman-owned business enterprise and holds certifications with the State of Ohio (EDGE), City of Cleveland and Northeast Ohio Regional Sewer District. Emerald also holds small-business designation with the City of Cleveland.